V-Slot® 20x80 Linear Rail
SKU:

295-LP
Frequently bought together:
Description
V-Slot Linear Rail aluminum extrusion profile is the ultimate solution combining both linear motion and a modular, structural framing system. It's lightweight yet rigid and provides an ultra smooth track for precise motion.
OpenBuilds created V-Slot Linear Rail aluminum extrusion profile and has added a library of compatible modular parts which today is known as the OpenBuilds System. We have shipped over one million feet of V-Slot and counting to businesses, classrooms, laboratories and makers all over the world!
Much like working with lumber, you can cut V-Slot on a chop saw (using a metal blade) or even use a hacksaw. From there, you simply use a screw driver to make the connections.
" V-Slot Linear Rails are precise, easy to work with and allows you unlimited design control through it's modular nature."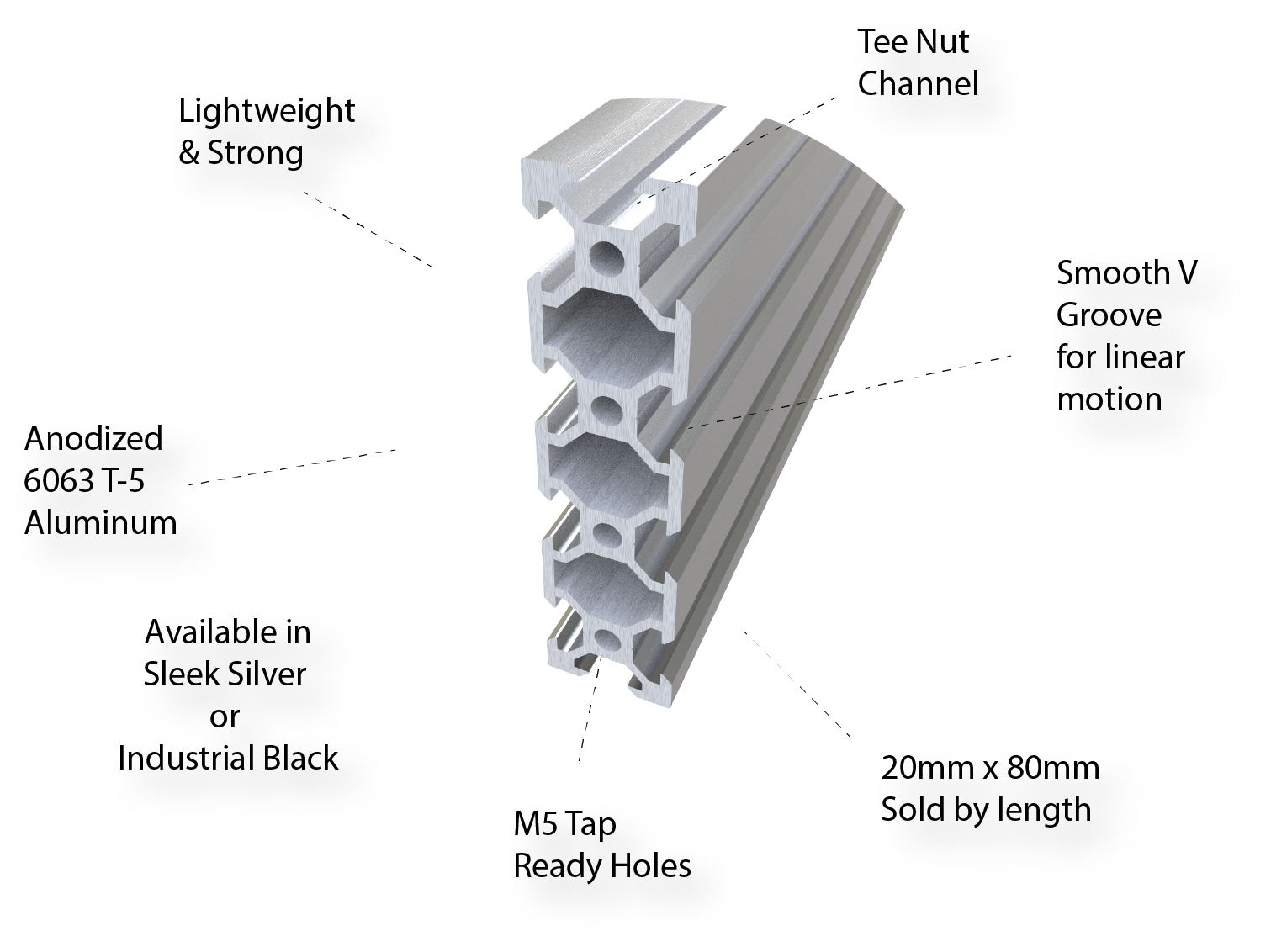 Be inspired by the amazing resource of Open Source Builds from OpenBuilds and our community members
View All
Close
13 Reviews
Solid product & customer service!

Hard to find 20x80. OBPS always uses tons of bubble wrap. They might have packed one up that got a small gouge. Normally I wouldn't care. But this machine is for a client. So I contacted OBPS, they understood completely & sent me a free replacement ASAP. Keeping my Detroit Metro small business looking 100% on point. They take care of their continued customers. Also got some cool chrome stickers! Thank you for tolerating my OCD :D

The V-slot linear rail i received was packaged very securely and the product was in perfect condition. Exactly what I ordered and the shipping was very fast. I'm very pleased. I higly recomend purchasing through them as opposed to Amazon for any type of V-slot type rails. There customer service responded through the customer login messages quickly. 5 stars!

Best 80-20 extrusion for your CNC projects, great price and fast shipping. Great job guys !

V-Slot 20x80 Linear Rails

These rails are exactly what I was looking for and they came nicely packaged and protected. The rails are exactly what my project needs. Thank you Openbuilds Parts Store for revising your shipping fees. I am now going to recommend and be a returning customer forever. Thank you again.

This Rail is exactly what I need. Absolutely Perfect for any Project.
View All
Close