V-Slot® NEMA 17 Linear Actuator Bundle (Lead Screw)
SKU:

2000-Bundle

UPC:

819368023084

MPN:

VSlotNEMA17LinearActuator
Description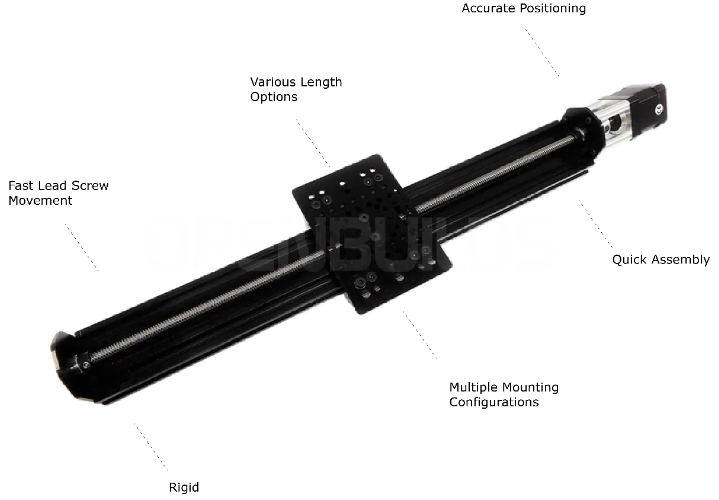 The V-Slot Linear Actuator is a great component in any linear system.
It's precise and modular which means it can easily be built into any linear application.
Take advantage of this amazingly affordable linear motion system today!
Lead Screw Driven

Travel distance:

250mm is ~6" (150mm)

500mm is ~16" (400mm)

1000mm is ~35" (900mm)

Accuracy: 0.001" ~0.003" (0.05mm ~0.10mm)

Accuracy Positioning: 0.075mm

Max Force: 13.5lb (60N)

Max Speed: ~8000 mm/min
Add-ons
Complete your Actuator with these popular add-ons.
Assembly/Support/Documentation/3D Models
Easy follow along assembly video – top notch awesome community support – open source files and documentation and examples.
View All
Close
2 Reviews
Ordering was easy and the OpenBuilds team was quick to respond to a question I had before shipping. Assembly of the kit was easy with the YouTube tutorial, and once assembled it's working great! It was nice to include the required Allen wrenches in the kit: it would have been a bonus if there was also an 8mm spanner (or if it was at least clearer that one was required) but it was a cheap trip to Lowe's to pick one up. The coating on some of the hex heads made for a tight fit on some of the Allen keys to the point where it was difficult to get the wrench in far enough to have confidence that the head wouldn't strip out. All in all, great service and a great actuator that was cheap and pretty easy to assemble. If this project works out the way I hope, I will definitely be buying more!

First purchase. Exceeded expectations.

I had purchased 2 of these (one 500mm and 1000mm) . The packaging and delivery was awesome, very well wrapped and protected. There were no quality issues with the part. Along with the cad models, and videos I got it integrated into my project within the day. Looking forward to ordering more parts in the future.
View All
Close