LEAD CNC Machine 1515 FULLY LOADED!
SKU:

3050-FL-S-US
Frequently bought together:
Description
LEAD 1515 CNC MACHINE - FULLY LOADED!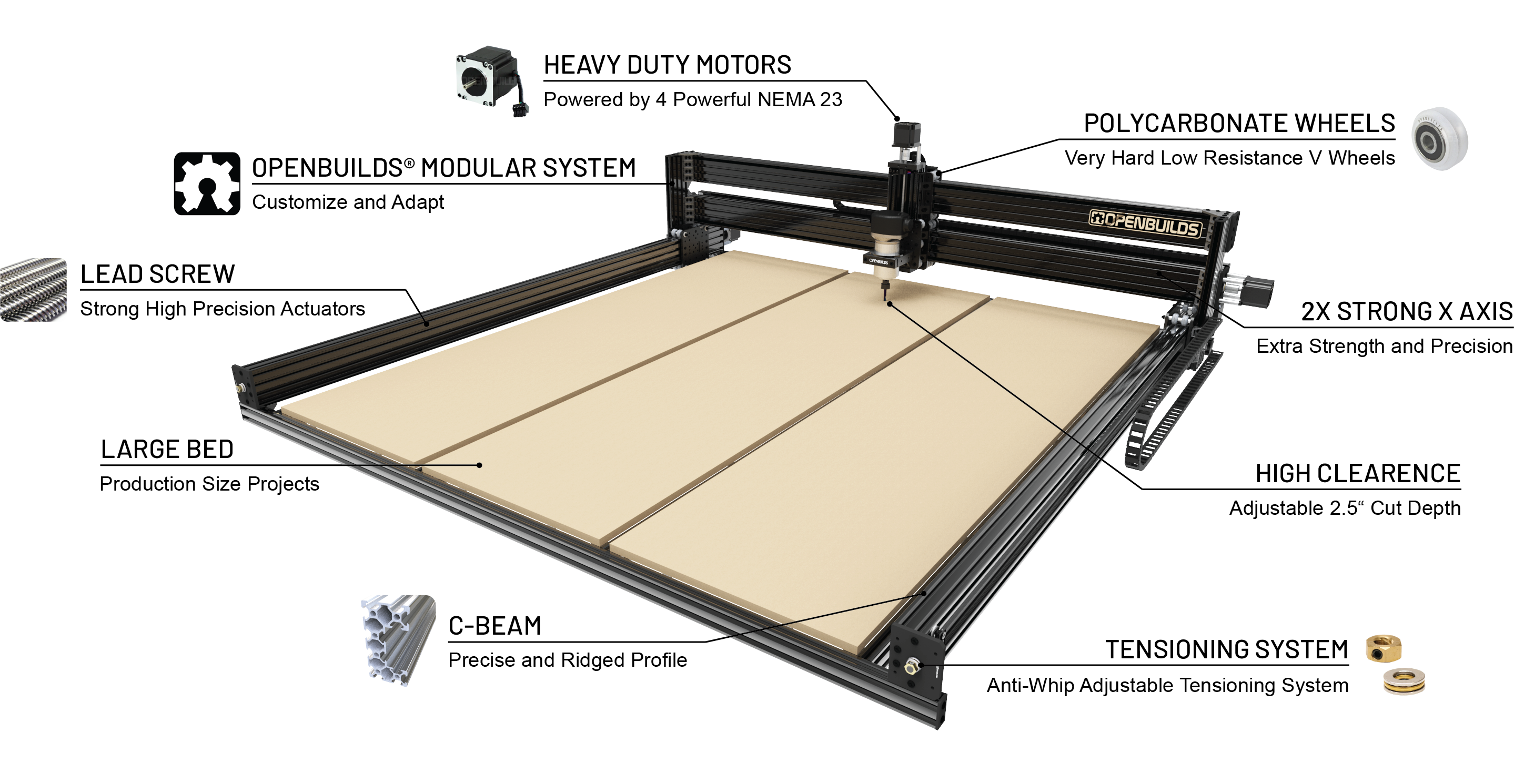 The LEAD 1515 is a large, fully capable, rigid machine ready for you to put into production. It's powerful and has high-resolution output to get the job done time and time again.
Create large projects with 4' x 4' sheets of material and Cut or 3D carve wood, plastics, aluminum, etc. to create big and beautiful intricate 3D carvings, inlays, furniture, signs, plaques, amazing works of art and so much more.

The LEAD 1515 has a rigid X Axis through the incorporation of double C-Beam Linear Rails to achieve intense accuracy and we've included a tensioning system for maximum performance.
At this amazing price point, there is no doubt that the LEAD 1515 will be a staple in workshops everywhere.

This is an easy to build kit. Everything you need to assemble and start using your machine is included. #OpenBuilds #V-Slot #Vslot #C-Beam #OpenBuildsSystem
TAKE THE LEAD!
| | |
| --- | --- |
| | |
| | X Axis 46" (1170mm) / Y Axis 49" (1250mm) / Z Axis 3.5" (~90mm) |
| | 2.5" (~63mm) Based on a 1/2" spoiler board |
| | |
| | 0.001"~0.003" (0.05mm~0.10mm) |
| | 65" x 65" (1650mm x 1650mm~) |
Contents
The kit includes all the necessary Parts to assemble your machine. (
Complete Part List
). *Note: 1/2" spoiler board not included (available at local hardware store, recommended size (3) pieces at H 1/2" (12mm) W 16" (406mm) L 58" (1473mm)).
Fully Loaded
*Includes everything you need to get up and running and more!
Software
INCLUDED at no additional cost - OpenBuilds CAM and CONTROL software is everything you need to get started making or purchase one of Vectric's CAD / CAM solutions that also include great features.
Materials you can Mill/Cut/Carve & Engrave
Get creative with OpenBuilds materials and watch your projects come to life.
Assembly/Support/Documentation/3D Models
Easy follow along assembly video – top notch awesome community support – open source files and documentation and examples.
View All
Close
3 Reviews
With the video build guide and awesome customer support I was able to get the Lead 1515 up and running in no time. When paired with Easel and Open Control this machine is extremely beginner friendly! I love that the platform as a whole is upgradable and wont leave me wishing for a whole new machine in a few years.

Strong, Sturdy Machine no problems after set-up 2 years ago.

Great machine, great support

We've recently build our lead 1515 machine. This machine is really fun. We enjoyed building the machine and we have learned a lot of along the build. After following the instructions, I expected to do a lot of troubleshooting (like most things) on the first cuts but everything just worked. This machine is complete and very well thought out. When we had problems with parts, support was very quick and helpful each time. Overall, this machine has good parts, very thorough instructions for building, a great community, and openbuildspartstore has amazing support. I personally like the blackbox, the control software, the online cam, and the preset configurations available for this machine. All of this combined makes a very enjoyable experience with this machine. I like it and recommend it to others.
View All
Close