LEAD CNC Machine 1010 FULLY LOADED!
SKU:
Frequently bought together:
Description
LEAD CNC 1010 MACHINE - FULLY LOADED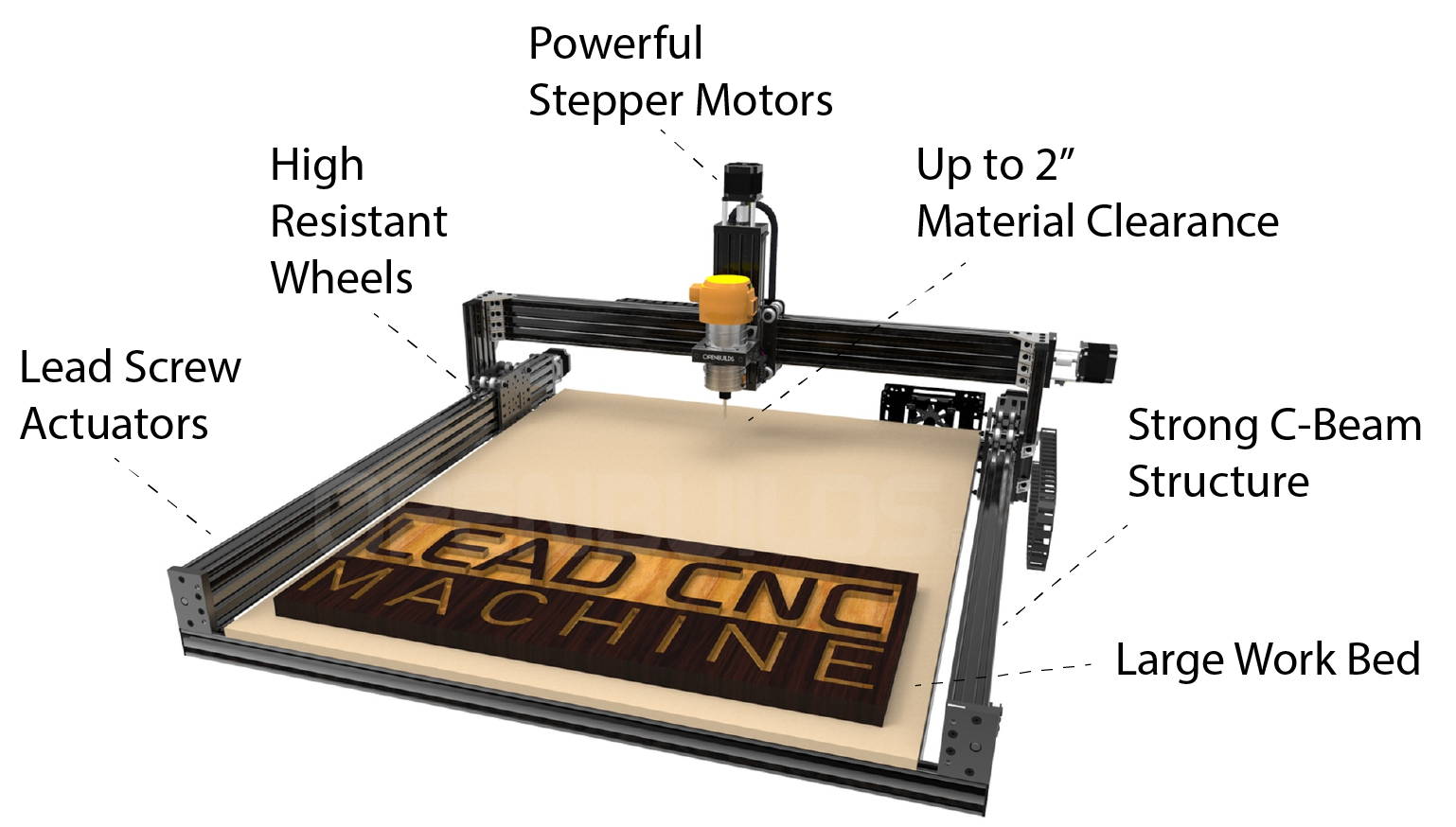 Make your dreams a reality with the LEAD CNC 3D Router.
Create beautiful intricate 3D carvings, inlays, amazing works of art and so much more.
Start a business, make unique gifts for your friends & family and impress even yourself by becoming a 21st century digital carpenter. The time is now!
It's easy, fun and intuitive.
With you and the LEAD, the possibilities are limitless.
This is an easy to build kit. Everything you need to assemble and start using your machine is included.
| | |
| --- | --- |
| | Lenght/Width 45" x 45" (1148mm x 1148mm) - Height 21" (550mm) |
| | X Axis 29" (730mm) / Y Axis 32" (810mm) / Z Axis 4" (~100mm) |
| | 2" (~47mm) Based on a 1/2" spoiler board stack |
| | |
| | 0.001"~0.003" (0.05mm~0.10mm) |
| | Lenght/Width 45" x 45" (1148mm x 1148mm) - Height 21" (550mm) |
Contents
The kit includes all the necessary Parts to assemble your machine. (
Complete Part List
). *Note: 1/2" Spoil board not included (available at local hardware store, recommended size H1/2" x W32" x L40").
Fully Loaded
*Includes everything you need to get up and running and more!
Software
INCLUDED at no additional cost - OpenBuilds CAM and CONTROL software is everything you need to get started making or purchase one of Vectric's CAD / CAM solutions that also include great features.
Materials you can Mill/Cut/Carve & Engrave
Get creative with OpenBuilds materials and watch your projects come to life.
Assembly/Support/Documentation/3D Models
Easy follow along assembly video – top notch awesome community support – open source files and documentation and examples.
View All
Close
1 Review
After waiting far too long (not your fault) I finally got the machine. On opening the boxes I was delighted to see all the many parts organized in zip lock bags, making the assembly much easier. I placed all the parts on a table I had set up near the assembly area and the actual assembly went well. Since there is no written docs I relied on the assembly videos on the OB website, and I'm very impressed with the quality of them. Unfortunately, I have no way of viewing the videos in the shop I'm putting the machine in, so I ended up going up and down the stairs to my computer room an excessive number of times. The construction was straightforward with many pauses to check the video and take notes. I am very pleased with the whole process, it was as difficult as I expected but manageable and I am confident that I have made no critical blunders. Super job on the packaging and the quality of the parts, I already have plans for addons and modifications. Thanks from a satisfied customer.
View All
Close