Description
LEAD CNC 1010 MACHINE - FULLY LOADED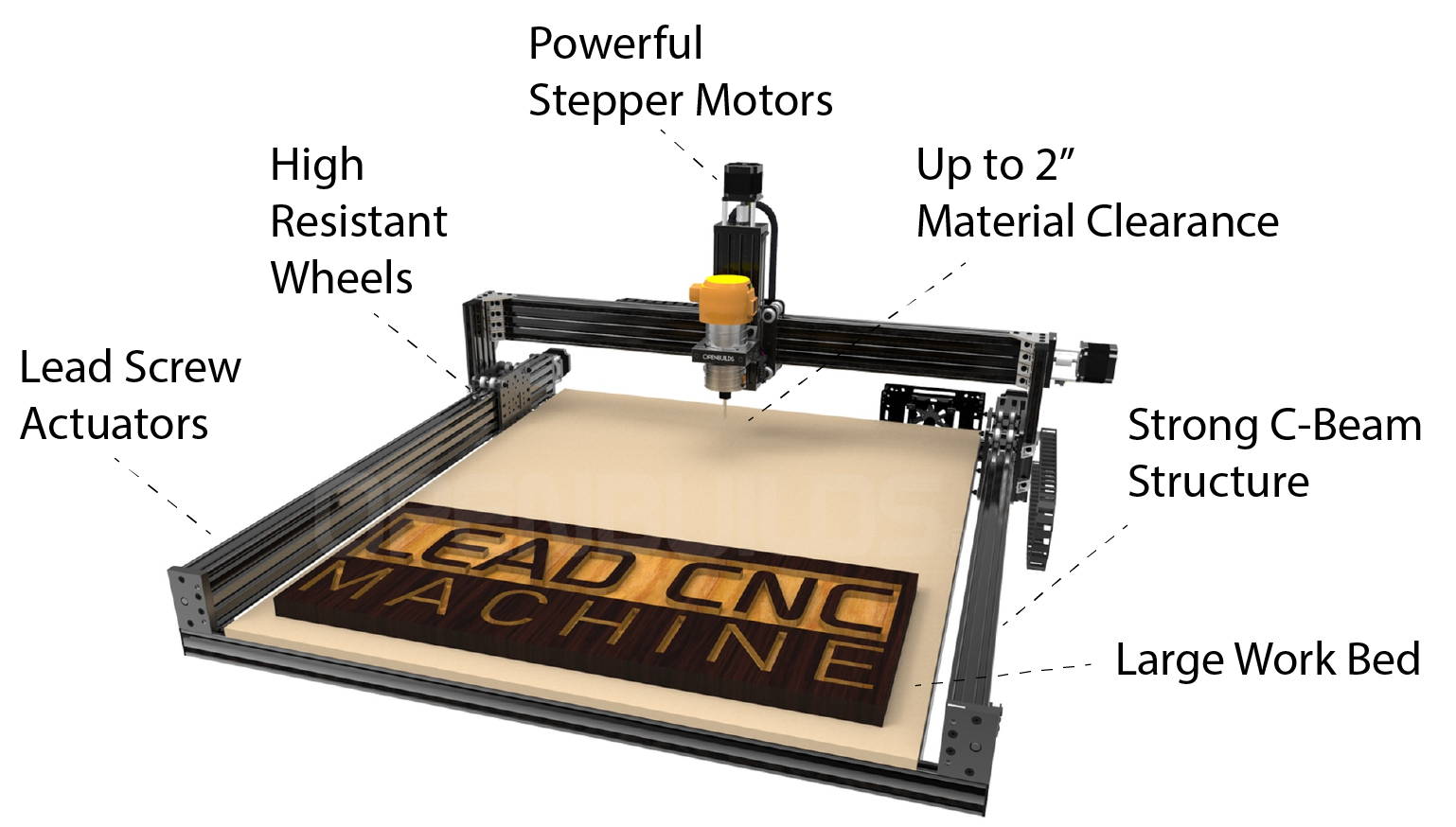 The LEAD 1010 is a robust solution ready to seamlessly integrate into your production workflow. Its precision consistently delivers high-resolution results.
Effortlessly cut or engage in 3D carving across various materials like wood, plastics, aluminum, and more. This allows for the creation of intricate 3D carvings, inlays, furniture, signs, plaques, and impressive artistic pieces.
With OpenBuilds, you receive exceptional value, and this kit is thoughtfully designed for simplicity and usage for every skill level. This user-friendly approach reduces the learning curve and ensures users can start using the machine efficiently.
We offer two buying options: Fully Loaded and Customizable. The Fully Loaded variant includes all vital parts and extra features, making it a favored choice for those seeking an all-inclusive setup.

On the other hand, the Customizable option empowers you to select specific components. We acknowledge that some users might have acquired individual parts previously during their CNC journey, hence the tailored approach.
| | |
| --- | --- |
| | |
| | X Axis 29" (730mm) / Y Axis 32" (810mm) / Z Axis 4" (~100mm) |
| | 2" (~47mm) Based on a 1/2" spoiler board stack |
| | |
| | 0.001"~0.003" (0.05mm~0.10mm) |
| | Length/Width 45" x 45" (1148mm x 1148mm) - Height 21" (550mm) |
Contents
The kit includes all the necessary Parts to assemble your machine. (
Complete Part List
). *Note: 1/2" Spoil board not included (available at local hardware store, recommended size H1/2" x W32" x L40").
Fully Loaded
*Includes everything you need to get up and running and more!
Software
INCLUDED at no additional cost - OpenBuilds CAM and CONTROL software is everything you need to get started making or purchase one of Vectric's CAD / CAM solutions that also include great features.
Materials you can Mill/Cut/Carve & Engrave
Get creative with OpenBuilds materials and watch your projects come to life.
Assembly/Support/Documentation/3D Models
Easy follow along assembly video – top notch awesome community support – open source files and documentation and examples.
View All
Close
6 Reviews
WOW so far I am amazed. The packaging was fantastic, the quality of each part very good. This machine is a tank. I still have to wire it up but I can already tell this is going to be a BEAST. It is the best quality build I have seen. Can't wait to fire it up and make some chips! OUTSTANDING!!!!!

This is my first cnc, and I was impressed from ordering to receiving to assembly and use. Everything came so well packaged and the assembly videos were spot on. I actually enjoyed the assembly. I'm really happy with this cnc as well as Openbuilds customer service and support.

Just waiting for my interface started on the wireing

I am new to the CNC world and purchased this package after months of researching many similar price point brands. This has everything I needed to get started. I ran into some issues during the build and customer service was there to assist me without hesitation. I really like this was shipped from Florida so it only took a few days to get replacement parts. I wouldn't hesitate to recommend this product or this company to anyone looking for a CNC.

We couldn't wait for this machine to get to our door! Once it did we begin the build and did our 1st sample cut. All I can say is wow! Great product great customer service what else could you ask for?
View All
Close