OpenBuilds C-Beam Machine
SKU:

1060-Bundle

UPC:

819368022001

MPN:

OpenBuildsCBeamMachine
Description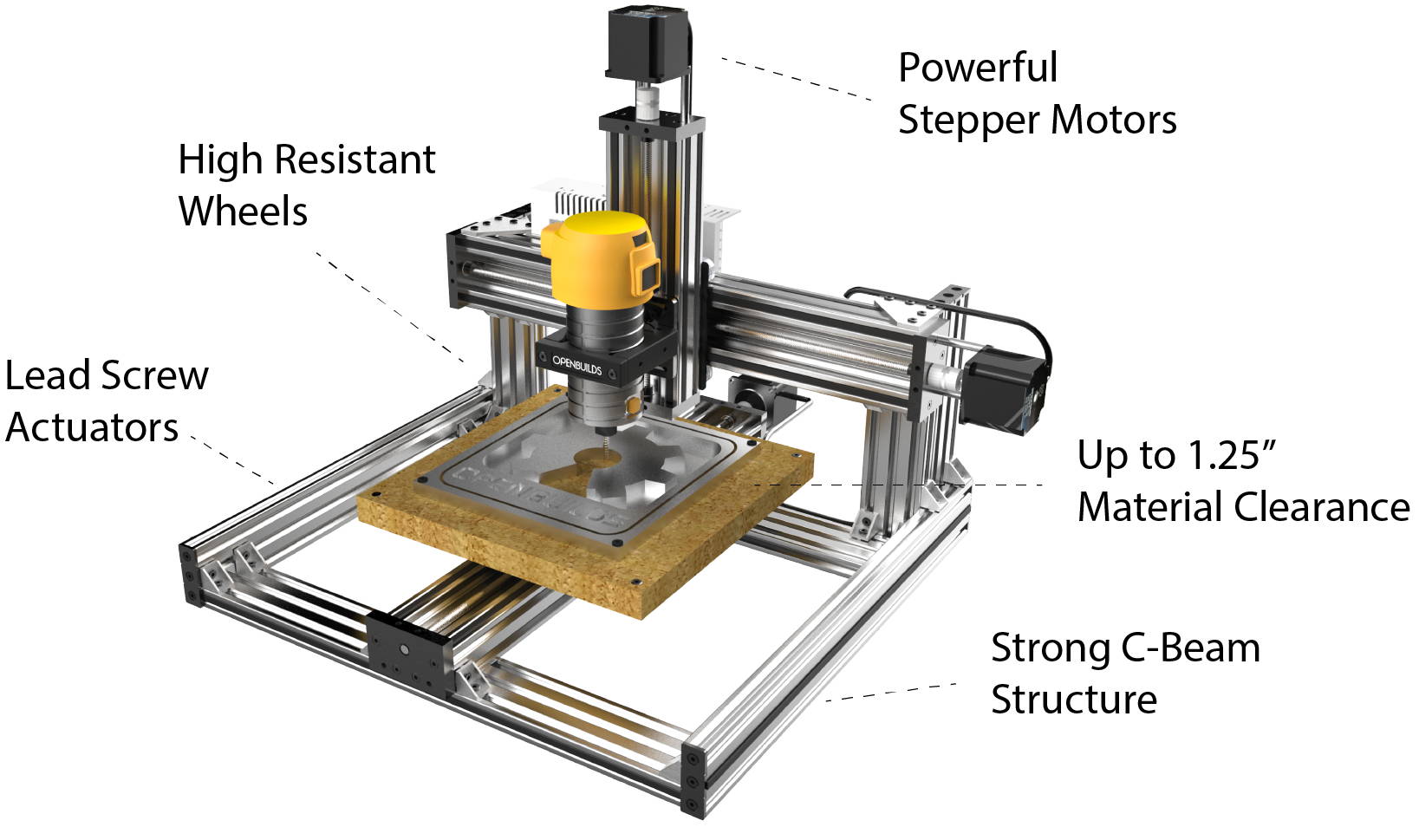 The C-Beam Machine is a compact and robust CNC machine packaged in a desktop-sized powerhouse, all at an incredibly appealing price point.

Effortlessly cut or engage in 3D carving across various materials like wood, plastics, aluminum, and more. This allows for the creation of intricate 3D carvings, inlays, furniture, signs, plaques, and impressive artistic pieces.
With OpenBuilds, you receive exceptional value, and this kit is thoughtfully designed for simplicity and usage for every skill level.
Order your C-Beam Machine today and let the creative sparks fly!
| | |
| --- | --- |
| | |
| | X Axis 13.5" (350mm) / Y Axis 11" (280mm) / Z Axis 3.5" (~85mm) |
| | 1.25" (~31mm) Based on a 1/2" spoiler board stack |
| | |
| | 0.001"~0.003" (0.05mm~0.10mm) |
| | 21.5" x 20" (546mm x 500mm) |
Contents
This kit includes all the necessary Parts to assemble your machine. (
Complete part list
). Note: 1/2" waste board not included (available at local hardware store, recommended size H1/2" x W12" x L12").
Add-ons
Complete your Machine with these popular add-ons.
Software
INCLUDED at no additional cost - OpenBuilds CAM and CONTROL software is everything you need to get started making or purchase one of Vectric's CAD / CAM solutions that also include great features.
Materials you can Mill/Cut/Carve & Engrave
Get creative with OpenBuilds materials and watch your projects come to life.
Assembly/Support/Documentation/3D Models
Easy follow along assembly video – top notch awesome community support – open source files and documentation and examples.
View All
Close
4 Reviews
Build the machine is very easy but time consuming using the supplied YouTube videos. There were three problems I found during the build. The first is the video needs to be updated to include the Blackbox. The video shows a control board I couldn't even find on the website. There is a video for the Blackbox that does cover the build process and how to connect and install the software. Really detailed information on both videos, just remember the pause button is your friend. The second problem that is not really aa problem just need to update the video to show the Dewalt router. This machine will hold different routers, you just need to make sure they will fit in a 2.75 inch or 69 mm hole when the base is removed. The third problem was with the stop buttons. They do not line up as needed when using the supplied black washers/spacers. The one one the Z axis will actually get damaged if the Dewalt router is moved up to the higher points of use. I used my 3D printer to make some that were only 2mm thick which allowed them to contact the plates as needed. I suggest that Openbuilds make adjustments to these to fit as required to allow for proper operation in the future. This was my first ever CNC machine and I had no problem building or running it with the supplied patterns and operating programs. I ordered the Cut2d with it and found it to be easy to use with supplied training videos from Vectric. I would recommend this machine to anyone wanting to have a good quality CNC machine for their personal shop. It will easily perform any work within its design range. I plan to purchase the largest machine Openbuilds has to offer in the near future. Until then I will spend my spare time getting use to the Vectric design program and running my designs on the C-Beam machine.

Quality kit for a good machine

First, the kit is great, this was my first from openbuilds, and I'll be buying from them again. The machine is pretty great out of the box, I did some test cuts on aluminum and it seemed to handle things well. I do plan to upgrade the Z height, switch the X axis to linear rails, and probably reinforce the build plate with additional extrustions and linear rails. and great thing about this machine is it is rigid enough to create its own upgrades out of aluminum plate!

Picked this up forever ago but got around to building it this past winter (got side tracked by a new born). The learning curve was low and this thing has plenty of power. Been cutting aluminum and acrylic with this thing and couldn't be happier with the performance. Lots to learn since I have no history with CNC, but the results have been excellent and I think it's the perfect plate maker.

Beast of a machine!
View All
Close