Description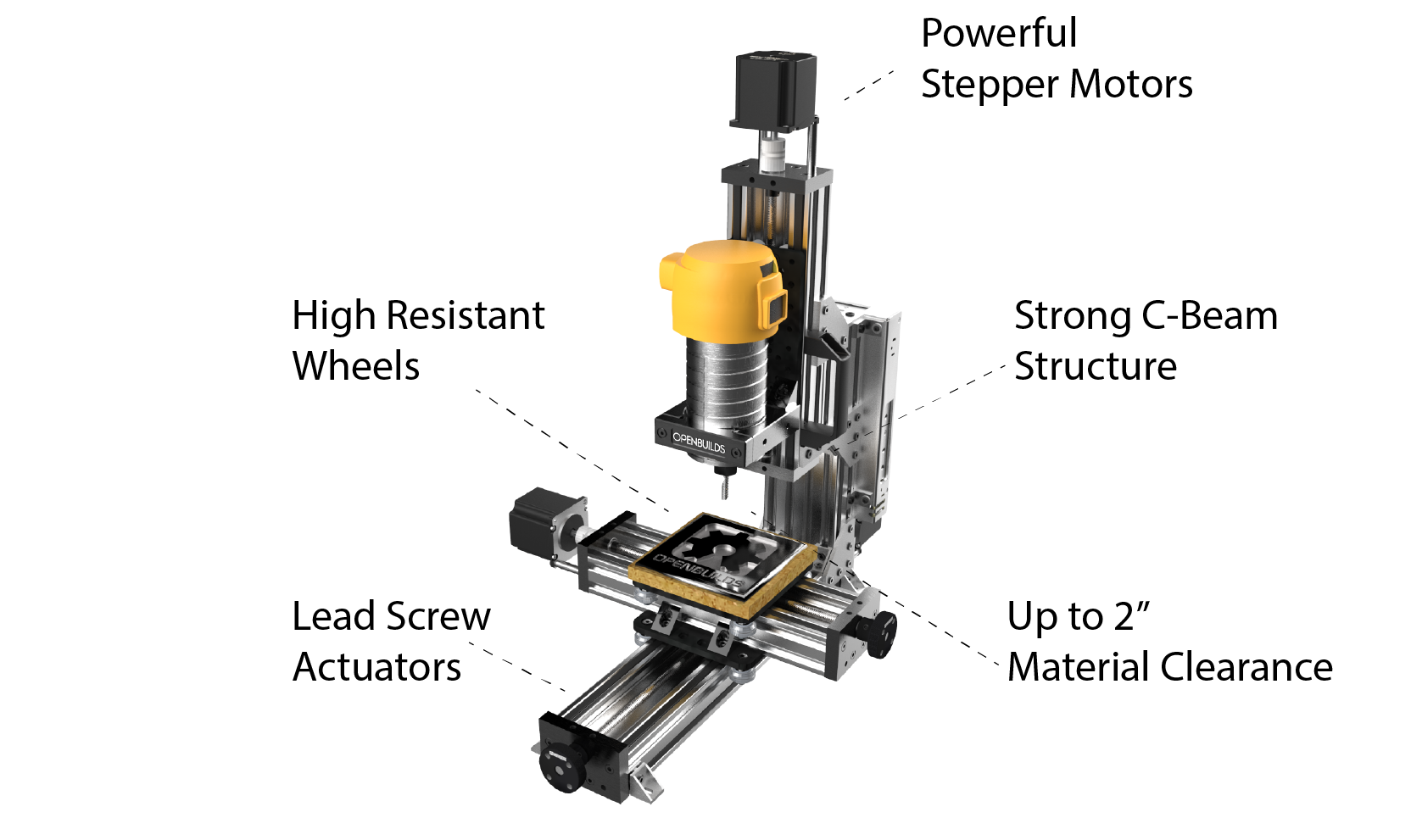 The OpenBuilds Minimill is an award winning, compact CNC milling machine tailored for small-scale machining and milling tasks. With its desktop-sized dimensions, it serves as a precise 3D carving and engraving device, capable of crafting intricate engravings and stunning 3D projects. Its open design and portable nature make it an asset to any workspace.

With OpenBuilds, you receive exceptional value, and this kit is thoughtfully designed for simplicity and usage for every skill level!
Get your Minimill today and make your concepts come to life.
| | |
| --- | --- |
| | |
| | X Axis 4.5" (120mm) / Y Axis 7" (180mm) / Z Axis 3" (~80mm) |
| | 2.5" (~60mm) Based on a 1/2" spoiler board stack |
| | |
| | 0.001"~0.003" (0.05mm~0.10mm) |
| | 22" x 16" (560mm x 406mm) |
Contents
( New to CNC, read here )
This kit include all the necessary parts to assemble your machine. (
Complete part list
). Note: 1/2" waste board not included (available at local hardware store, recommended size H1/2" x W5" x L5").
Add-ons
Complete your Machine with these popular add-ons.
Software
INCLUDED at no additional cost - OpenBuilds CAM and CONTROL software is everything you need to get started making or purchase one of Vectric's CAD / CAM solutions that also include great features.
Materials you can Mill/Cut/Carve & Engrave
Get creative with OpenBuilds materials and watch your projects come to life.
Assembly/Support/Documentation/3D Models
Easy follow along assembly video – top notch awesome community support – open source files and documentation and examples.
View All
Close
4 Reviews
Very easy to put together following the YouTube videos. Well thought out and sturdy

First off, The Item packing is what sold me an impressed as well. Everything labeled an marked, in such a way that assembly is "EASY AS EATING PANCAKES" Videos are well done .The product item is a great entry level to Expert system with expansion in mind. Everything works perfectly, the software is amazingly simple to understand if you are a beginner. If this your first investment! You won't be disappointed. I'm proud of my choice an looking forward to building a 5 axis unit with OpenBuilds. Products. Sky's the Limit Build to reach it!

I absolutely love it. It is a little more intricate that I had thought, but easy enough to assemble and get running. I am not new to CNC milling/routing so my expectations were not too high based on the price, however, I was pleasantly surprised with this little machine. For its size and price it seems to have a lot of potential. I have opted to not use a "traditional" router, but rather the "popular" 500 Watt 12,000RPM spindle that can be purchased almost anywhere. This did require me to make up a custom adapter plate, or interface to allow the bolting on of the spindle clamp to the Z axis, with no modification to the original MiniMill itself. I decided on this spindle mainly due to my previous experiences with it and its much quieter noise profile vis-a-vis a "router". Looking forward to putting it through some work, after which time, I will provide a more in depth analysis of my experience, but so far I feel it is 100%. Thank you OB for your great products which are only overshadowed by your superb customer service.

I received the MiniMill kit just a few days ago and am in the process of completing the build. All of the mechanical parts are complete and I'm now working on the electronics. The kit was very well engineered and I am sure it will be a great companion to my large OPENBUILDS CNC Router. The assembly video was very helpful...I've just about memorized the script..."Looks good...On to the next step!"
View All
Close