OpenBuilds LEAD CNC Machine 1515 (60" x 60")
SKU:

3050-Bundle

UPC:

819368028706

MPN:

3050-Bundle
Description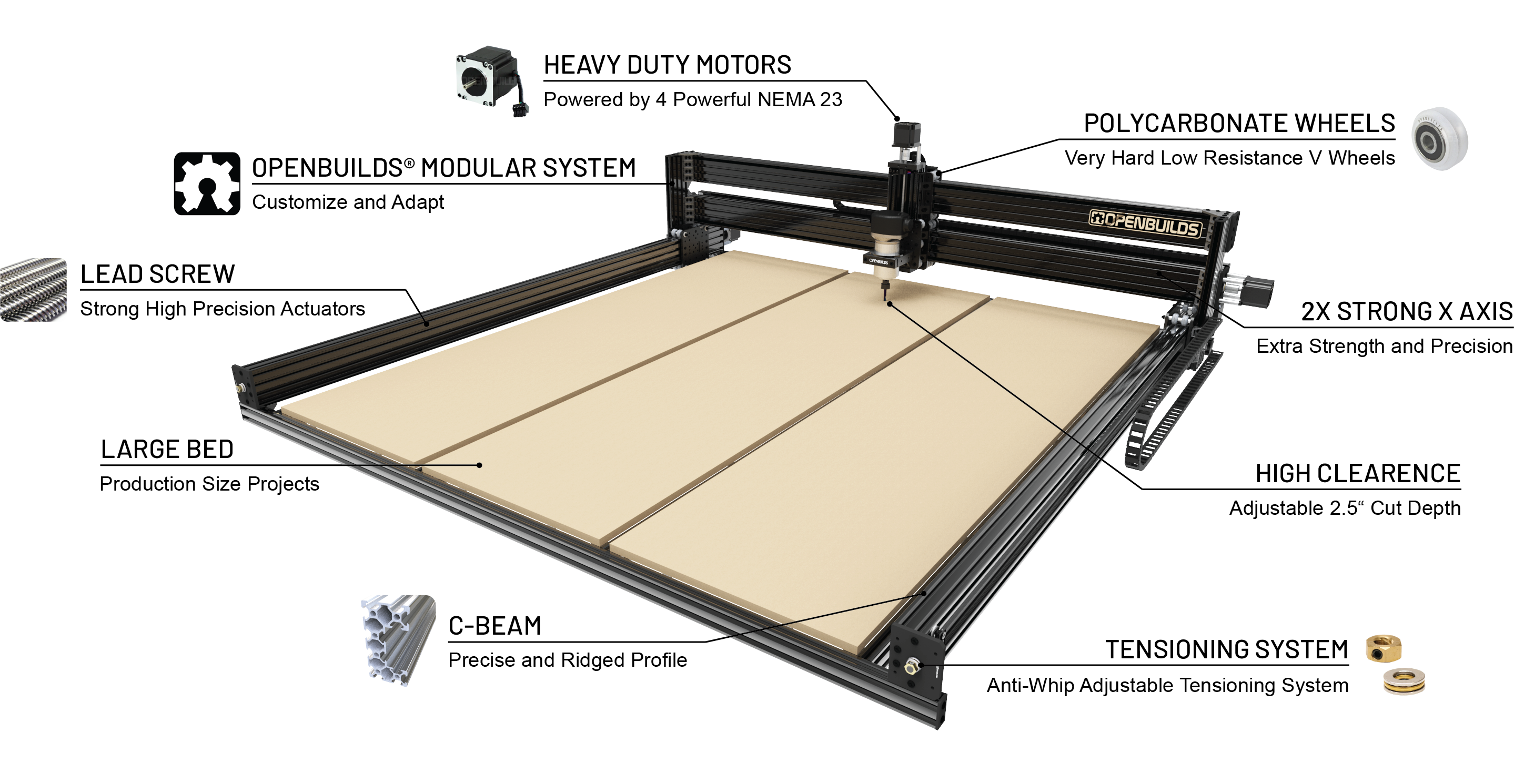 The LEAD 1515 is a robust solution ready to seamlessly integrate into your production workflow. Its precision consistently delivers high-resolution results.
Produce ambitious projects with ease on 4' x 4' material sheets. Effortlessly cut or engage in 3D carving across various materials like wood, plastics, aluminum, and more. This allows for the creation of intricate 3D carvings, inlays, furniture, signs, plaques, and impressive artistic pieces.
The LEAD 1515 features a sturdy X Axis, achieved through the integration of dual C-Beam Linear Rails, ensuring unmatched precision. Additionally, a tension system maximizes its performance.
With OpenBuilds, you receive exceptional value, and this kit is thoughtfully designed for simplicity and usage for every skill level.
We offer two buying options: Fully Loaded and Customizable. The Fully Loaded variant includes all vital parts and extra features, making it a favored choice for those seeking an all-inclusive setup.

On the other hand, the Customizable option empowers you to select specific components. We acknowledge that some users might have acquired individual parts previously during their CNC journey, hence the tailored approach.
| | |
| --- | --- |
| | |
| | X Axis 46" (1170mm) / Y Axis 49" (1250mm) / Z Axis 3.5" (~90mm) |
| | 2.5" (~63mm) Based on a 1/2" spoiler board |
| | |
| | 0.001"~0.003" (0.05mm~0.10mm) |
| | 65" x 65" (1650mm x 1650mm~) |
Contents
Thi kit includes all the necessary Parts to assemble your machine. (
Complete Part List
). Note: 1/2" spoiler board not included (available at local hardware store, recommended size (3) pieces at H 1/2" (12mm) W 16" (406mm) L 58" (1473mm)).
Add-ons
Complete your Machine with these popular add-ons.
Expansion
Do even more with your OpenBuilds LEAD machine expansion kits (sold separately).
Attach a laser to your LEAD CNC and take your projects to the next level
Software
INCLUDED at no additional cost - OpenBuilds CAM and CONTROL software is everything you need to get started making or purchase one of Vectric's CAD / CAM solutions that also include great features.
Materials you can Mill/Cut/Carve & Engrave
Get creative with OpenBuilds materials and watch your projects come to life.
Assembly/Support/Documentation/3D Models
Easy follow along assembly video – top notch awesome community support – open source files and documentation and examples.
View All
Close
9 Reviews
Quality machine backed by quality service

I'll do up a build thread with my opinions and experiences, but the TLDR is that I'm very happy with OpenBuilds. Not only are the parts great, but their service and response is top-notch.

This is my third CNC machine and the first to be purchased from a non-Asian company. So I was rather intrigued to see the differences in service and equipment quality. Off the bat I was totally impressed with the quality of the packaging. My fingers a however numb from opening all of those ziplock packs that each set of screws and other components came in, lol. Although there is no written installation instruction, the video is all you need. For a machine that you are constructing from absolute scratch, the video is well made and very easy to follow. As far as the machine itself, It thus far appears to be very well engineered. The parts also seem to be of much higher quality than others that I have encountered. Service-wise, I have had a few questions about things that I had ordered etc and about things that I didn't fully understand and the help both from the Open Builds team as well as the forum has been amazing. I hope that they stay doing the right things!

This first review will be short as I am still in the build stage. It arrived at my door in record time (less than 1 week). This was a good start. It's clear the folks at OpenBuild are on the ball. As I carefully unpacked everything and laid it all on my floor in a grid pattern. I was a bit shocked at the number of parts but hey I love a good puzzle. Of course this puzzle comes with NO documentation. You must rely on YouTube videos which are good. That being said, one document just listing the parts with pictures would have helped. If I was leading the team at OpenBuilds I would package the parts to match the individual stages matching the videos. That would speed things up tremendously. More to follow after I have my new baby built and operational. P.S. One of the rails arrived with a substantial ding. But it appears to be the front rail so no bid deal.

Other than missing a set screw for the nut block and a flange bearing, the CNC machine has performed perfectly

I totally enjoyed this build. Everything went together as advertised and worked first time. I would definitely encourage anyone who is looking for a no-hassle entry into a large scale CNC machine at a reasonable price, this is the one to consider I have a short MP4 video of my build if you are interested. Just let me know where to e-mail it.
View All
Close