OpenBuilds LEAD CNC Machine 1515 (60" x 60")
SKU:

3050-Bundle
Frequently bought together:
Description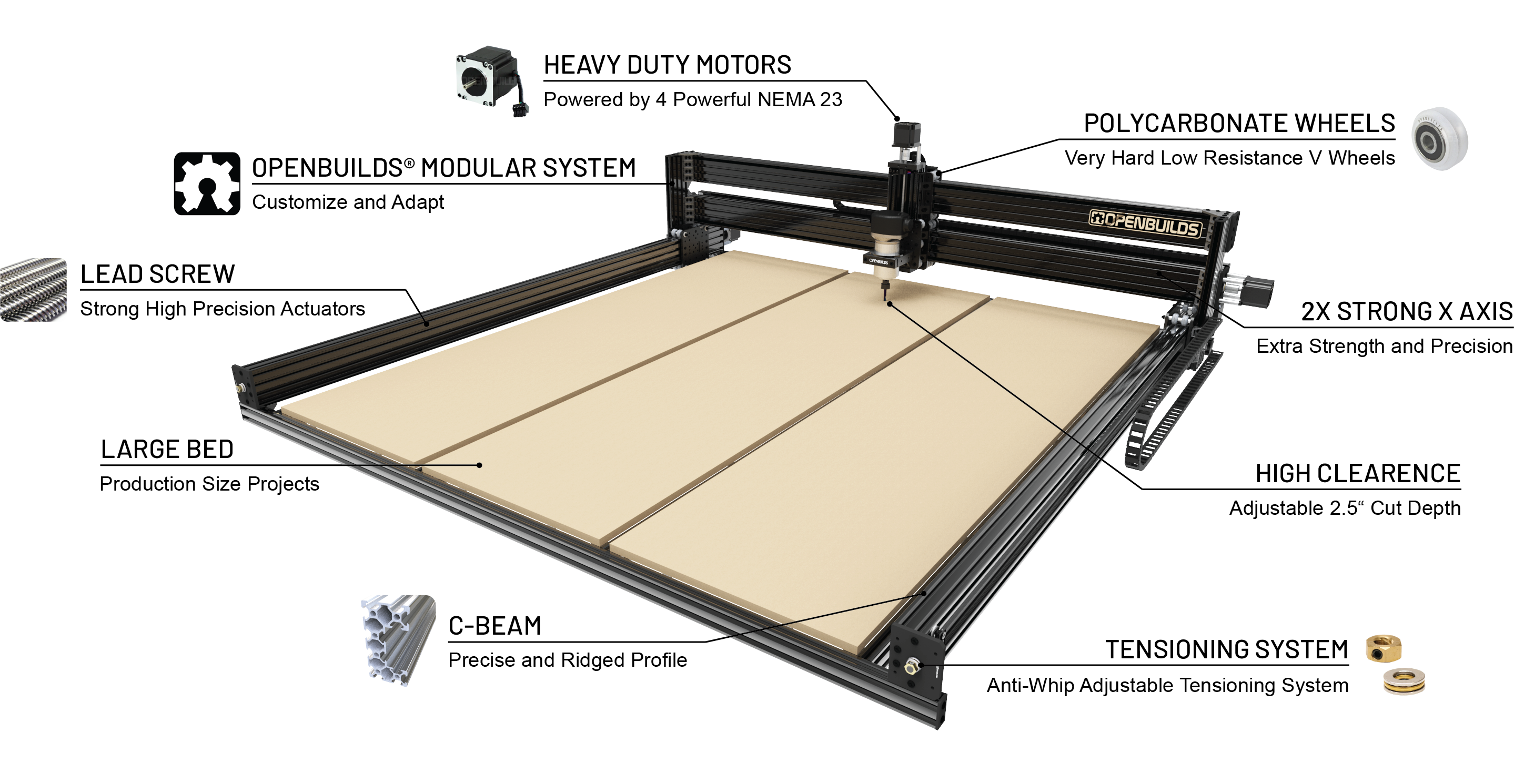 The LEAD 1515 is a large, fully capable, rigid machine ready for you to put into production. It's powerful and has high-resolution output to get the job done time and time again.
Create large projects with 4' x 4' sheets of material and Cut or 3D carve wood, plastics, aluminum, etc. to create big and beautiful intricate 3D carvings, inlays, furniture, signs, plaques, amazing works of art and so much more.
The LEAD 1515 has a rigid X Axis through the incorporation of double C-Beam Linear Rails to achieve intense accuracy and we've included a tensioning system for maximum performance.

At this amazing price point, there is no doubt that the LEAD 1515 will be a staple in workshops everywhere.
TAKE THE LEAD!
| | |
| --- | --- |
| | |
| | X Axis 46" (1170mm) / Y Axis 49" (1250mm) / Z Axis 3.5" (~90mm) |
| | 2.5" (~63mm) Based on a 1/2" spoiler board |
| | |
| | 0.001"~0.003" (0.05mm~0.10mm) |
| | 65" x 65" (1650mm x 1650mm~) |
Mechanical Bundle Contents
Includes all the necessary Parts to assemble your machine. (
Complete Part List
). Note: 1/2" spoiler board not included (available at local hardware store, recommended size (3) pieces at H 1/2" (12mm) W 16" (406mm) L 58" (1473mm)).
Mechanical Plus Bundle Contents
Everything on the mechanical version PLUS the items below.
Expansion
Do even more with your OpenBuilds LEAD machine expansion kits (sold separately).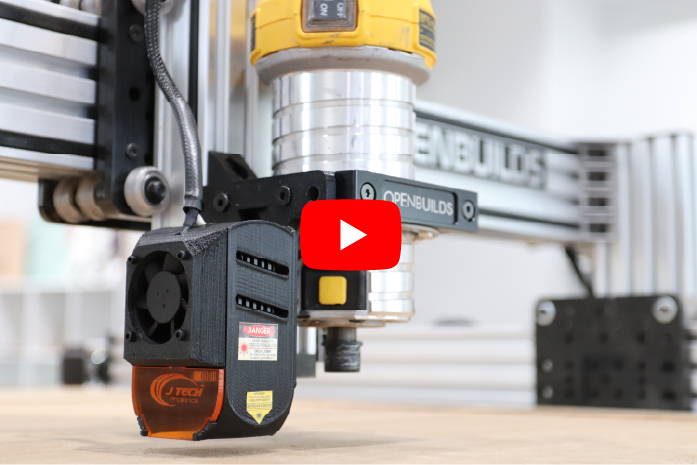 Attach a laser to your LEAD CNC and take your projects to the next level
Software
INCLUDED at no additional cost - OpenBuilds CAM and CONTROL software is everything you need to get started making or purchase one of Vectric's CAD / CAM solutions that also include great features.
Materials you can Mill/Cut/Carve & Engrave
Get creative with OpenBuilds materials and watch your projects come to life.
Assembly/Support/Documentation/3D Models
Easy follow along assembly video – top notch awesome community support – open source files and documentation and examples.
View All
Close
5 Reviews
I totally enjoyed this build. Everything went together as advertised and worked first time. I would definitely encourage anyone who is looking for a no-hassle entry into a large scale CNC machine at a reasonable price, this is the one to consider I have a short MP4 video of my build if you are interested. Just let me know where to e-mail it.

Love this machine so happy I have it

Great kit, well done OpenBuilds!

This is my second (sort of 3rd) CNC build... my first was the original shapeoko, which I then promptly upgraded to the point where it had a 5'x2' work area/vac table and basically none of the original parts. That was a great machine while I had it, but I eventually sold it due to having access to a 5'x10' Laguna CNC for a few years. Since then I lost access to the Laguna, so I did some research and decided to give the openbuilds 1515 kit a try instead of designing a new build from scratch. I'm really glad I made the decision because this machine is a good combo of price and convenience. OB has a great ecosystem of products going here and I like their general design principles. I saved a ton of time (which I have in short supply these days) by going with this kit and I'm happy with the result. I did upgrade it immediately with a torsion box/vacuum table that I built myself which I sort of see as a must have. I knew that the table situation would be the main shortcoming of this kit design for me. I did that upgrade right away and never built the machine totally stock. I also added the interface touch, the high torque steppers, and I designed a handful of custom 3d printed parts like the dust shoe, hose management, protective case/bumpers for the interface etc.

I followed along with the build videos that Matt did and they were very good. Other than one broken flanged bearing everything else was perfect! I have a feeling the flange bearing that broke was due to having the high torque motors and the motor didn't release when I put too much pressure on it. I just ordered five more flange bearings just in case I get heavy-handed again! Thank you for a great product.

OPENBUILDS LEAD CNC MACHINE 1515 (60" X 60")

Been in the signage industry for 30 years and have owned and/or run tons of equipment. Been running multiple X-Carves in our business and needed to add another large CNC. Looked at the latest Pro from X-Carve vs the OPENBUILDS LEAD CNC MACHINE 1515 (60" X 60"), and saw that with our expertise, we could purchase the 1515 for way less, build it, turn a few wrenches to tweak it, and end up with really similar functionality as the XCarve Pro for about $7000.00 less. Ordered the machine and did the build. Ran into a few snags but got support from Mark at OpenBuilds and got the initial issues resolved. Upon completion and tweaks, we cranked up and immediately saw positive impact on our manufacturing production, as well as sales of new orders related to the capabilities of the 1515. Buy it, build it, and add profit to your business!
View All
Close