OpenBuilds ACRO 1010 40" x 40"
SKU:

2375-Bundle
Frequently bought together:
Description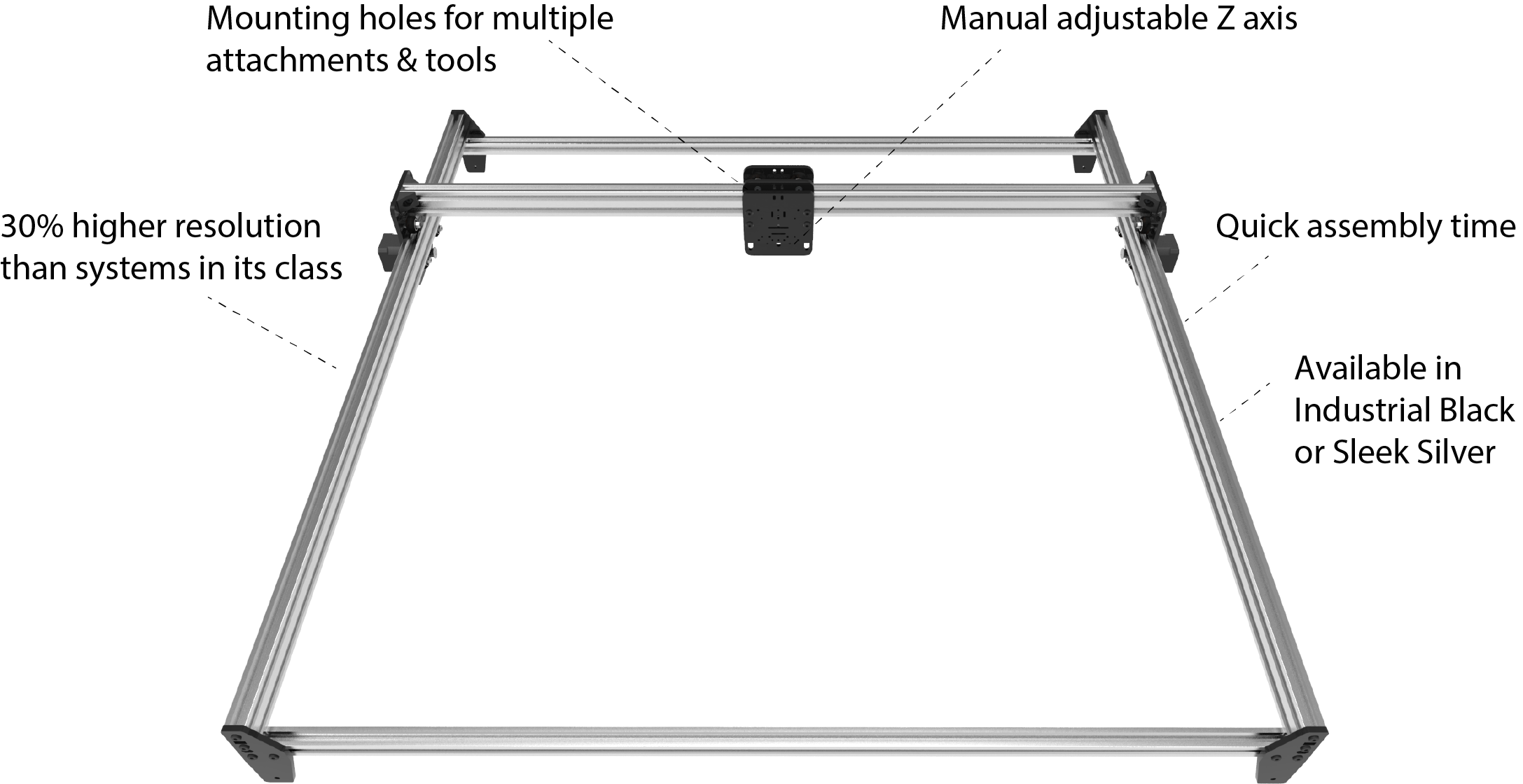 The OpenBuilds ACRO System is the most cost effective and accurate positioning system in its class.
With the Acro System you have the flexibility of attaching many different tool styles from diode lasers to pen attachments to pick and place systems and much more.
Get your ACRO now and put your ideas into motion. #OpenBuilds #V-Slot #Vslot #OpenBuildsSystem
| | |
| --- | --- |
| | |
| | X Axis 30" (800mm) / Y Axis 30" (800mm) / Z Axis 2 3/4" (~70mm) |
| | Variable based on toolhead used |
| | Belt Driven GT2 timing belts |
| | 0.003"~0.007" (0.10mm~0.20mm) |
| | 40" x 40" (1000mm x 1000mm) |
Choose the size that best fits your needs.
Add-ons
Complete your Machine with these popular add-ons.
Software
INCLUDED at no additional cost - OpenBuilds CAM and CONTROL software is everything you need to get started making or purchase LightBurn solution that also include great features.
Assembly/Support/Documentation/3D Models
Easy follow along assembly video – top notch awesome community support – open source files and documentation and examples.
View All
Close
3 Reviews
Awesome machine, wiring was meh.

Just finished assembling the machine two days ago or so, machine itself is amazing, although If you buy the all in 1 kit, some of the wiring parts are just insanely hard due to size tolerances, the tube clamps I think are a tad too small and you need hands like a hydraulic press to close them enough to bolt to things, and the rail sleeves to hide other wires, half were perfect sized to go in, the other half seemed SLIGHTLY too wide and again, you almost need hydraulic hands to push them into the rail, other than those issues, the rest of the machine more than makes up for it, EXTREMELY accurate, EXTREMELY well built, would definitely recommend, but with the hose clamps they provide, I suggest instead of fighting them, get some slightly bigger ones.

Very well packed, instruction video online was spot on. Kit went together very well. Had one minor part issue but there customer service was right on it. Great company to work with I asked allot of questions before I purchased and they where very patient, I would do it purchase again in a minute.

Highly recommend to anyone looking at this. There's really nothing else like it on the market and the quality and convenience of having it come in one kit is great. I was considering going full DIY on this but I'm glad I saved myself the trouble.
View All
Close