Description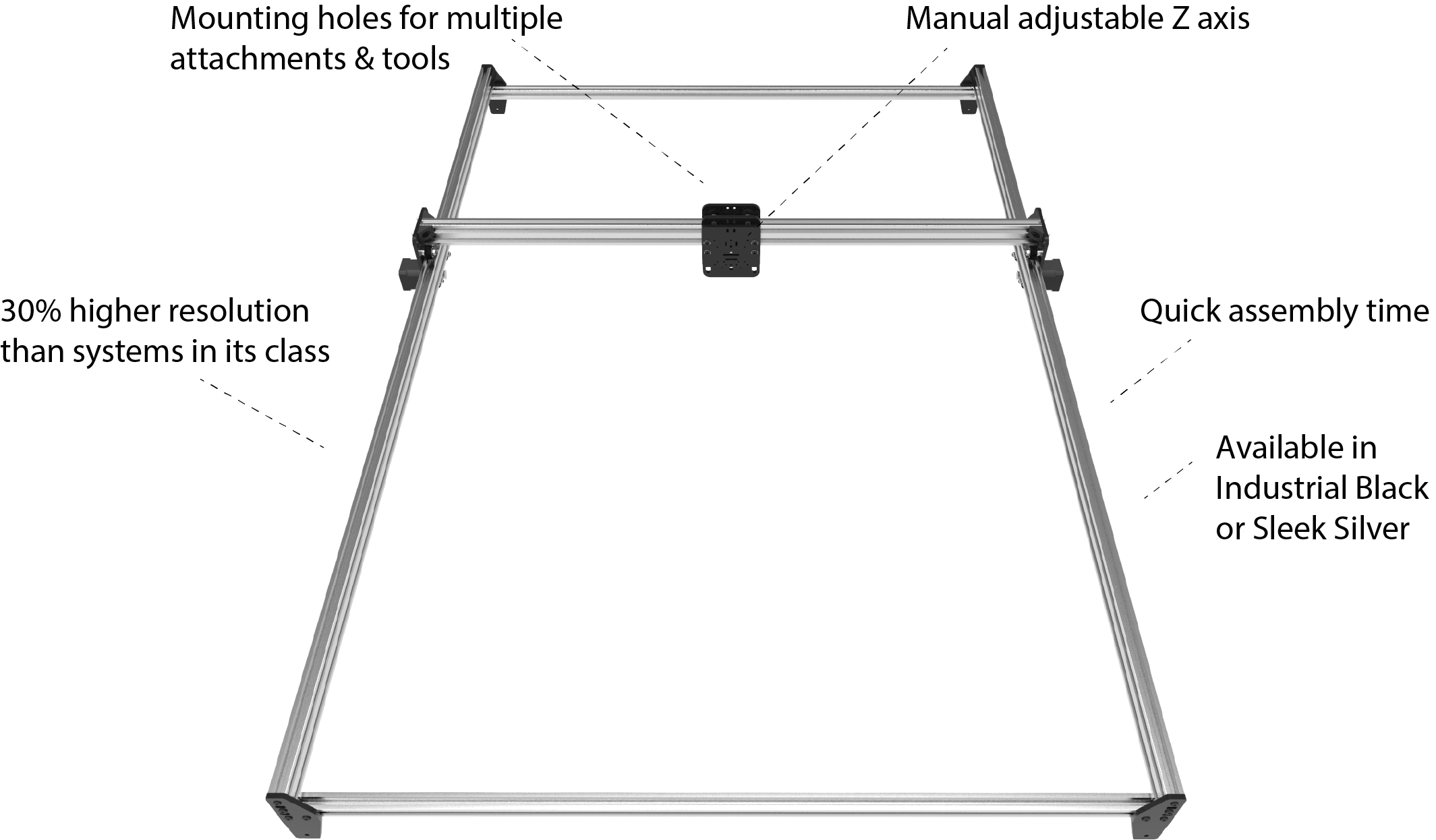 Imagine the creative power at your fingertips – the ACRO System invites you to explore a world of customization. With the freedom to attach different tools, whether it's diode lasers, pen holders, or pick and place systems, your creative potential knows no bounds. This is not just a positioning system; it's a gateway to countless innovative applications.
Available in a multitude of sizes, catering to your specific needs. From compact ventures to more expansive undertakings, there's an ACRO System size tailored just for you.
Join the league of creators who have chosen the OpenBuilds ACRO System to transform their visions into reality. Affordable, versatile, and empowering, this system is more than a purchase – it's an investment in your creative journey. Don'tmiss out on the opportunity to experience precision, versatility, and the thrill of creating with the ACRO System.
X Axis 50" (1300mm) / Y Axis 30" (800mm) /

Z Axis 2 3/4" manually adj.

Variable based on toolhead used

Belt Driven GT2 timing belts

0.003"~0.007" (0.10mm~0.20mm)

60" x 40" (1500mm x 1000mm)
Choose the size that best fits your needs.
Add-ons
Complete your Machine with these popular add-ons.
Software
INCLUDED at no additional cost - OpenBuilds CAM and CONTROL software is everything you need to get started making or purchase LightBurn solution that also include great features.
Assembly/Support/Documentation/3D Models
Easy follow along assembly video – top notch awesome community support – open source files and documentation and examples.
View All
Close
3 Reviews
Good build and perfectible assembly instruction

I'm happy with the build, but I've kind of struggle on the assembly and I think the build experience could be better if I had an assembly manual. I also had replace the cable routing system for the X axis / servo motor, the tubes in this kit are not a reliable solution. Also, I would have appreciated getting assembly instructions for that machine size because I often had to guess what V-Slot length to use.

Missing the M3 x 10mm screws which is a pain but I had some left from another project. Other than that everything seems to be of good quality and assembly video was good.

As always, great delivery time on the kit. And what a treat to put this together!! It's awesome to have a system of parts that just plain work together. I'm using this for a J Tech laser system and look forward to using this amazing collaboration of components!
View All
Close