OpenBuilds LEAD CNC Machine 1010 (40" x 40")
SKU:

2660-Bundle

UPC:

819368027037

MPN:

2660-Bundle
Frequently bought together:
Description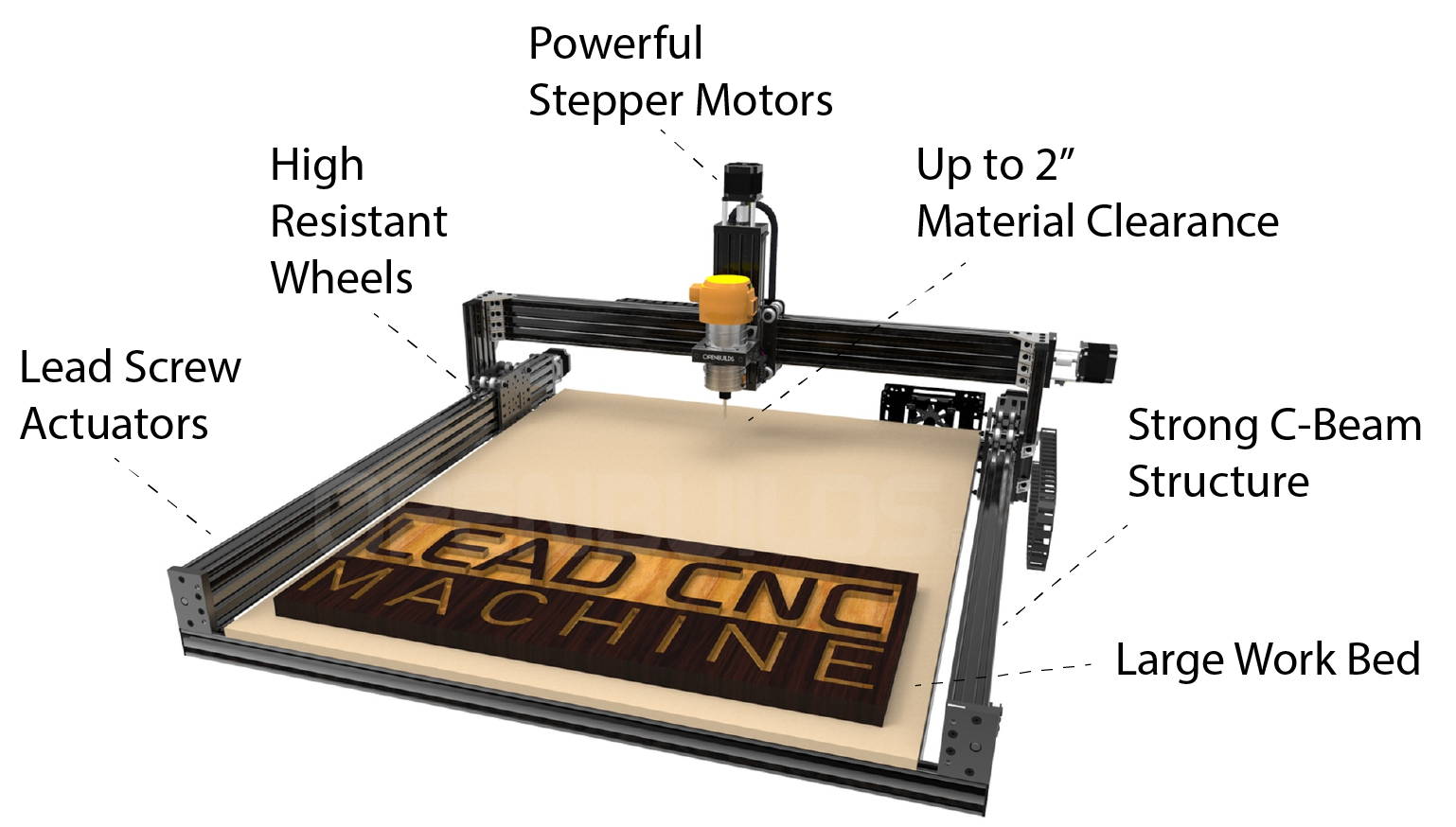 Make your dreams a reality with the LEAD CNC 3D Router.
Create beautiful intricate 3D carvings, inlays, amazing works of art and so much more.
Start a business, make unique gifts for your friends & family and impress even yourself by becoming a 21st century digital carpenter. The time is now!
It's easy, fun and intuitive.
With you and the LEAD, the possibilities are limitless.
Included is everything needed to assemble and wire the machine. Choose from the add-ons to complete your fully functional machine (CNC Controller/Stepper Motors/Power Supply/Router).
| | |
| --- | --- |
| | |
| | X Axis 29" (730mm) / Y Axis 32" (810mm) / Z Axis 4" (~100mm) |
| | 2" (~47mm) Based on a 1/2" spoiler board stack |
| | |
| | 0.001"~0.003" (0.05mm~0.10mm) |
| | 40" x 40" (1000mm x 1000mm) |
Bundle Contents
Includes all the necessary Parts to assemble your machine. (
Complete Part List
). Note: 1/2" Spoil board not included (available at local hardware store, recommended size H1/2" x W32" x L40").
Add-ons
Complete your Machine with these popular add-ons.
Expansion
Do even more with your OpenBuilds LEAD machine expansion kits (sold separately).
Extend your Milling / 3D Carving depths up to 8" with our High Z Mod
Attach a laser to your LEAD CNC and take your projects to the next level
From companies known to produce high quality laser systems compatible with the OpenBuilds machine bundles (Sold separately)
Software
INCLUDED at no additional cost - OpenBuilds CAM and CONTROL software is everything you need to get started making or purchase one of Vectric's CAD / CAM solutions that also include great features.
Materials you can Mill/Cut/Carve & Engrave
Get creative with OpenBuilds materials and watch your projects come to life.
Assembly/Support/Documentation/3D Models
Easy follow along assembly video – top notch awesome community support – open source files and documentation and examples.
View All
Close
13 Reviews
It was really fun to assemble the machine with all the parts laid out really well. Once I powered it on it was easy to control with the free software. I'm excited at the projects this will slow me to do now

Great Design! After trying to collect and build a CNC router of my own design I purchased the OPENBUILDS LEAD 1010

Wonderful I fell in love with this device and took it late in writing a review to make sure of the device's effectiveness I found some missing parts and it was damaged due to shipping and informed the company, and their treatment was very elegant and immediately everything I needed was sent. I liked the way you interact and I hope to work with you always thank you

In my opinon you won't be sorry

Let me start off by saying I new to CNC. I wanted to upgrade to a larger machine, was checking at varies site and decide to try open build. Customer service was great as I was able to spit my purchase on two different account to buy the lead 10x10. I chose free shipping and it arrive within 4 to 5 days. It took me a while to build it. Did I say I was a newbie, I follow along with the video (they were great). In some area I had to go back and review the video 2 or 3 time just make sure I did it correctly, lol (or that don't look right}. After the build I had a small problem with the X axis, but customer service great at pointing me to the right direction. Turn out it was a coupling on the x lead screw. (it was not install right) I did my first test of Hello world and it turn out great. My second carve turn out great too. So I am really happy with the purchase and you will be too. Not able to post the picture of my carve.

Almost done with the assembly of the machine, ready to start the wiring. So far I am impressed with the materials and the ease of the assembly.
View All
Close